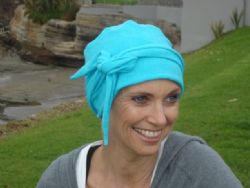 How To Wear
Twist and Tie 
(1a) Place the twist and tie on your head and with the ties at the back, cross them over each other (don't knot them) and bring them tightly up and keeping them flat, bring the ties around each side of your head and gently fold them under at the front or side depending how much length you have in the ties, so as they stay secure. This gives a nice smooth effect.
(1b) Another way is to do same as above, cross over again at the back and then twist each tie and bring them your head and tie to secure at front or side. This gives a twist effect and a bit of volume to the twist and tie.
(1c) You can also cross over ties again at back then stretch one side of the tie all the way around the front and to the opposite side and tie both together on one side, into a rosette or nice bow.
(2) Put twist and tie on head and tie the long ties into a knot to secure then drape ties down side of neck/shoulder so as they drape down like long hair.